China Sourcing Manufacturers in China
Manufacturers in China
We have a wide network of reputable Chinese manufacturers, and offer you the most effective ways to source low cost products from China.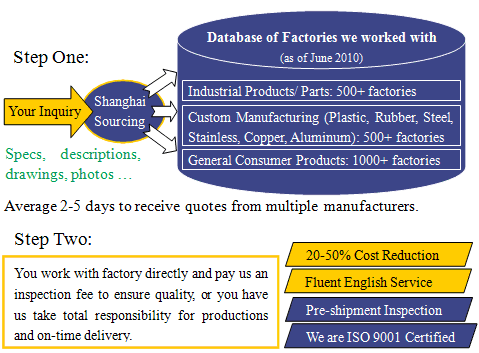 Basically, we are an one-stop shop for you to source quality products from low-cost manufacturers. Ongoing, we provide "on-the-ground assistance" to help you effectively manage Chinese manufacturers.

About Us :
Twenty versatile sourcing experts and twelve engineers in China. We have mature quality assurance processes,a dedicated QC team, in-house bilingual engineering capabilities.

Put us to the test by getting a quote now. Please email us at contact@sourcing-cn.com or fill out the simple form on the right.

Distinct Benefits:
| | |
| --- | --- |
| | 1.Cost Advantages: Compared to U.S. factories, Chinese costs are 20%-50% lower. |
| | 2.Control Risk: We help you pre-qualify suppliers by visiting onsite.  We monitor production constantly and inspect quality before shipment. Our legal team works rigorous to protect your intellectual properties or ensure factories honoring contractual obligations. |
| | 3.Clear Communication: Avoid the headache of dealing with too many factories that you have problem talking with. We are English-speaking, familiar with foreign engineering standards, and have field reps in USA and France. |
| | 4.Filter out the 10000s of Chinese factory websites online and gain access to only the reputable, responsible and capable. |
| | 5.Convenience: We manage custom clearance and shipping.   |
Our Clients:
Besides large firms, we also serve many small to medium size enterprises in North America and Europe.
Basic Process:

Help you find and go straight to the manufacturers

Obtain detailed quotes from 4-10 factories

Factory Audit

Sampling

Production with your chosen factory
(drive on-time delivery, resolve issues, and provide constant communication assistance)

Quality Inspection

Shipping to door
Our Differentiations:
1. If needed, you'll build DIRECT relationships with factories instead of middlemen.
2. Focus on continuous supply management
+ On-demand/onsite quality inspection, process compliance.
+ Manage delivery shortage
+ Small batch orders, Inventory reduction
3. Real people instead of B2B Web sites. We understand the language/ culture of Chinese suppliers and serve as a local liaison for issue resolution
4. Full supply chain solution

Shipping Cost and Lead Time Estimations
5. Strong focus on engineering control and custom manufacturing.
Copyright@ 2003-2013 China SourcingAll rights reserved.